Services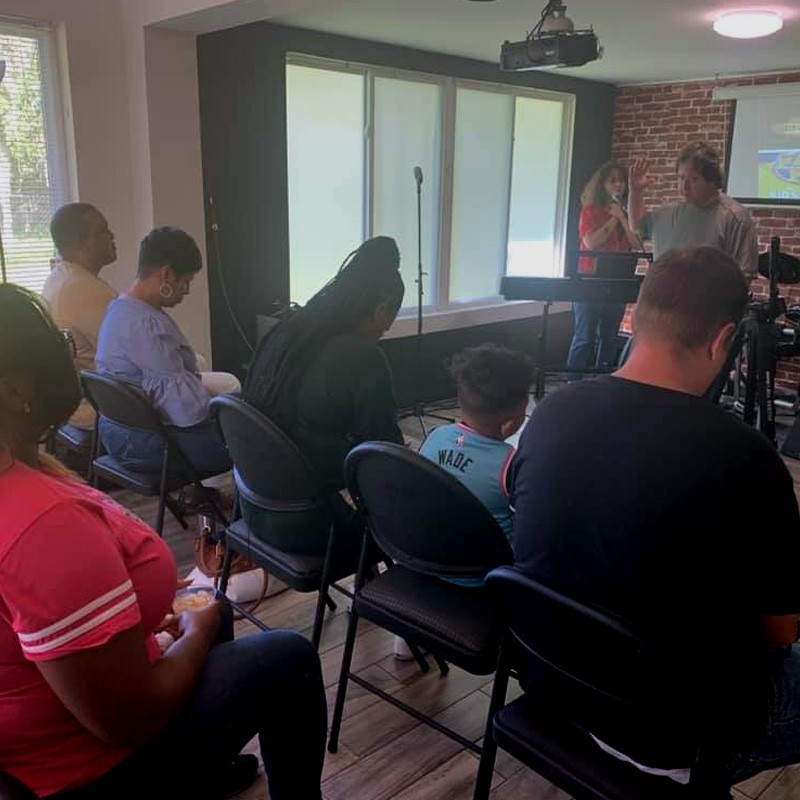 Every Sunday at 10 am EST, we meet both in person and via YouTube LIVE. Our address is 114 Brown Street, Bradenton, FL 34208.
Get ready to study the Word with Pastor Gene and Pastor Lacey as they present the Word of God in a verse by verse analysis. You will grow! Enjoy alto The Altar Worship, who will minister to God and to you, providing you a true spiritual experience.
God's power moves among us. Join our Sunday Service!
As you know, since early 2020, we moved our service from the chapel we were renting and relocated our Sunday services to our home. It made sense at the time due to Covid-19 restrictions. Now that there are more measures to keep us safe,we are back at it and have found a beautiful building that we would like to separate with a deposit and then do some modificationsto make the place worthy of being a center where God's name is worshipped. Think about it! The building is in the heart of a community. We cannot wait to walk those streets, visit with our neighbors, ask them how we can pray for them and present them with the hope of Jesus. You can have a part in this by helping us with a donation that we hope will help us provide the appropriate deposit and then do all the changes necessary for the house of the Lord to be ready. If you want to give an offering for this new adventure, please click the gofundme link. We love you and thank you in advance. God had promised that we would have a dedicated building in Bradenton to raise an altar during all our services and to serve our community. This is the start of greater things. We believe God. And we believe that this fund-raising campaign will advance as He touches your heart! Thank you for partnering with us to bring the needs of our communities and the Kingdom of Heaven to a divine intersection, through your generosity. We are The Altar Church...where the needs of men and the majesty of God intersect! We love you guys! May God bless your continued generosity. #WeAreTheAltar
Every Wednesday at 7 pm EST we meet together at 114 Brown Street, Bradenton, Florida to worship and to study the Word of God. Our Wednesday services are interactive. We worship God and then we start a discussion about the passage we are studying. We are currently studying the book of 2 Corinthians. From: Don't Lift the Veil, Excellence,What God really Wants, etc., pastor Gene will find a creative way to bring you closer to the original meaning of Scripture, as she engages you with questions.
A select number of people are invited to join via Zoom which allows them to participate actively in the discussion. If you click the link above, you will find us in Facebook LIVE in pastor Gene McIntyre's page, every Wednesday at 7 pm EST.
Wanna go up? We are ready for you! God is ready for us!
This coming SuperBowl weekend we have double the fun. Come on Saturday at 2 and enjoy our regular youth group awesome time from 2-9 pm. After that, stay at the McIntyre's home overnight and next day, enjoy service, a good breakfast and then the SUPERBOWL!!!!
That is Saturday February 12 and 13! Call Pastor Gene at 941-565-1344 and reserve your spot!!!
Click on the picture above and take a look at a clip from one of our summer camps.
Details on our Youth Summer Camp/Retreat 2022 will be coming soon
UNSTOPABBLE = CAMPING WITH A MIGHTY GOD
Details will be forthcoming.
cost? ¿costo?
$150.00
No Kids? No Problem! Click the link below and send someone to camp Unstoppable 2022